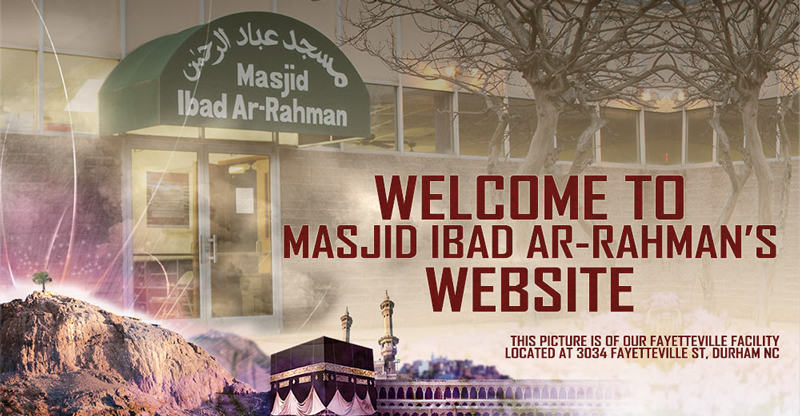 Jamaat Ibad Ar-Rahman (JIAR) serves as the place of worship and gathering for the largest Muslim community in Durham, NC.
Our mission is to establish, facilitate and encourage the practice of Islam in Durham and the surrounding area based on the Qur'an and the Sunnah of the Prophet Muhammad (SAW) according to the methodology of the Salaf Salih (the righteous predecessors) by:
1. Providing a place of worship;
2. Enjoining good and forbidding evil;
3. Educating the Muslims;
4. Propagating Islam to the general community;
5. and Promoting the social, economic and moral well-being of the Muslims.

OUR FOUNDATIONS:
Jamaat Ibad Ar Rahman, Inc. received its charter from the state of North Carolina on February 9th 1981. Under Chapter 55A of the General Statutes, it became a nonprofit organization with the following major purposes:
1) To engage in the religious practices and beliefs of the Islamic faith through moral, educational, cultural and economic development of all members.
2) To provide an organization which will promote and support the Islamic Faith.
3) To engage in any type of business to enhance the economic status of the corporation for lawful and religious employment.

NOTED MILESTONES:
1981 – Jamaat Ibad Ar Rahman, Inc. received its state charter and federal and state tax-exempt status.
1983 – Masjid Ibad Ar Rahman was opened on Roxboro Street.
1986 – 23 Acres of land was obtained for future use. 15 Acres remain as an alternative site for a new Masjid.
1988 – Existing building was purchased.
1989 – Masjid was opened in new building. The Adhaan was called from loudspeakers on top of the building and is still called today.
1990 – Ibad Ar Rahman School was opened. It has been the longest operating Muslim school in North Carolina and has high school graduates.
2004 – Purchased land to expand parking area
2004 – An-Noor Sunday School opened
2005 – Masjid expansion
2009 – Purchased Parkwood Facility
2010 – Al Huda Academy opened at Parkwood facility
2011 – Established Jamaat Ibad Ar-Rahman Funeral Home, L